Fred Isn't Just My Father's Name...
I had a fantastic experience today, courtesy of one of my best friends from High School, (now) Dr. Mark Halstead, who is one of the most creative and "I Get It" sense of humor people in the world.
Mark has been filming a series of informational sports-athletics filler ads for the Cardinals at Busch Stadium, and recently, he asked if I would like to be included.
Are you kidding me? Hell yeah!
So he invited me down to the soon-to-be-rubble Busch Stadium where the filming crew and "extras" were able to get together for a couple of hours and film a series of informational inserts that will run on the declining jumbotron at Busch.
I arrived at the east parking structure which is where I have been parking for Busch Stadium every time we come down this way. Not only did I get a fantastic view as always of the current Busch Stadium, I also got to sneak a peek at the NEW Busch Stadium which will be opening it's doors for next year's baseball season.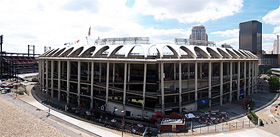 The new stadium truly is something to behold, folks. If you've never had the pleasure of seeing a major league baseball stadium being erected, please make sure that you take just a few minutes time to travel downtown and witness something really special. The way that they've formulated the schedule and construction site makes it INCREDIBLY accessible for you to see exactly what is going on at the new Busch and is really a true testimate to what kind of miraculous scheduling and hard work is going on there.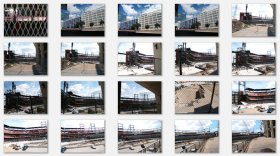 While my parts in the informational videos are miniscule to be sure, the experience was one that I will always remember and one that continues to bring a smile to my face anytime I think of it. Why you ask? It's simple.
When you're standing 3 feet in front of the jerseys of one of the most powerful major league baseball teams in history, it's something to remember.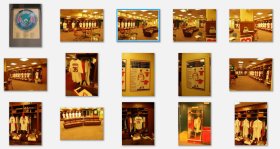 They're all there - Edmonds, Pujols, Suppan, and a personal favorite John "Old School" Mabry is accounted for.
Being down on the field of the scheduled-for-destruction Busch Stadium, playing catch and doing goofy informational skits with Fredbird, the St. Louis Cardinal Mascot, is something to remember.
Getting a picture of Fredbird Gobbling my noggin, is something to remember.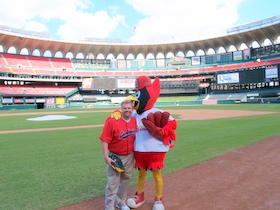 Doing my best Tony LaRussa on the top of the dugout steps, is something to be remembered.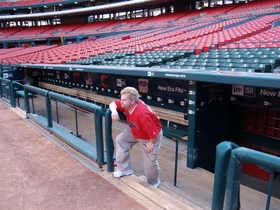 I want thank Mark for providing me with the opportunity of being able to emblazen a piece of St. Louis Cardinal history on me - it is something that I will never forget and will always be appreciative of. Thank you Dr. Halstead!