Time Marches on As Do the Myths of Challenger...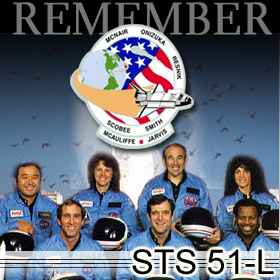 One of the most vibrant memories I have from my formative years was the "day that the shuttle exploded" 20 years ago today.
I was home from school that day with a cold and remember sitting in my parents house watching television when a news flash came onto the screen describing the events invovling the destruction of Challenger and the first review of it's destruction. The spiraling out-of-control booster rockets to this day still serve as a symbol of something gone very wrong.
I've recently read a great article online and I wanted to be sure that everyone that reads here takes a moment to read it. It dispels many common misunderstandings surrounding the last Challenger flight, and adds 2 minutes and 45 seconds to what everyone has generally thought was a 73-second flight. You will gain a great deal of discussion-altering information from it.
As always - I tip my virtual hat to the brave men and women of our Space Program. Their memories, achievements and passing fuel at least a portion of my efforts today.
7 myths about the Challenger shuttle disaster
It didn't explode, the crew didn't die instantly and it wasn't inevitable
By James Oberg
NBC News space analyst
http://www.msnbc.msn.com/id/11031097/?GT1=7538